THE BOTTOM – The devastation on St. Maarten will surely impact Saba, St. Maarten being Saba's main hub to the outside world. For the moment Saba's supermarkets have ample food supplies.
However according to Island Governor Jonathan Johnson in terms of food supplies; "research is being done to seek out alternative destinations as to where food supplies can be imported from. We will also seek assistance in getting bottled water to the island."
Concern
Residents are concerned for the coming period, because there is uncertainty as to when normal cargo deliveries will be made between St. Maarten and Saba. "To help alleviate this potential risk the fisheries will reopen as soon as weather permits," said Governor Johnson.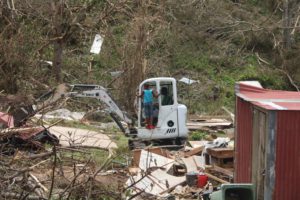 Moreover because of the destruction of St. Maarten's Princess Juliana International Airport flying in and out of Saba will be limited. As well, Saba's main ferry the DAWN II was damaged during the hurricane. This will also impede transport in and out of Saba.
Telephone service is also limited. Telephone providers on St. Maarten are facing difficulties as a result of damage to their main towers. Telcel users were able to have service for majority of the hurricane, but UTS users are still in the dark.
Aid from The Netherlands
Several homes have been damaged and an assessment is being done to see what supplies are needed urgently. An inventory will be sent to the relevant ministries in the Netherlands where assistance is being sought.
"The Executive Council has regular contact with the Dutch government. All on island issues which have been caused by the passing of hurricane Irma are being reported accordingly," the governor noted.
Dutch King Willem-Alexander is expected to fly into Curacao on Sunday and from there determine when it is safe again to visit the SSS islands in the coming weeks. Curacao is helping coordinate a military operation to deliver supplies to the 40,000+ people of St. Maarten.