THE BOTTOM – Dutch King Willem Alexander visited Saba today to have a look at damages inflicted by hurricane Irma. "It's amazing how Saba survived some big parts (of the hurricane), but obviously for individuals it doesn't make any difference, because you lose everything. But the community sense here is spectacular, to see how everybody got out and started cleaning up. It remains unspoiled."
During his short visit King Alexander met with individuals most affected by hurricane Irma and gave them a sense of hope. "We won't forget you," he reassured them, while noting that his wife had sent her regards as she feels their pain.
Attention on Saba
The King said it was important for him to make this trip so he could have a better understanding of the extent of damage on Saba, as much focus is being placed on St. Maarten. "Saba and St. Eustatius deserve the same," he commented.
"I am traumatized, I cannot sleep. When you are sleeping, you see everything happening again in front of you", was the account of one hurricane survivor who lost her whole house roof.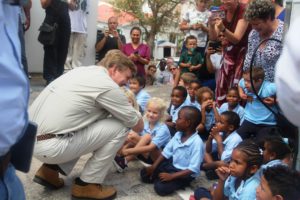 Some families lost their whole house roof, while others only parts of their roves. A local recovery team, with the help of the marines has made the damaged homes somewhat livable in the meantime by placing large blue tarpaulins over the open roves.
Island Council Member Ishamel Levenstone who lost his house roof said to the King, "Saba is in distress right now. I lost my roof and everything, but I'm feeling sorry for everyone else who got hit. I know you have our island at heart, so I know you are going to help us get out of this.
Planning
The King commended Saba for its pre-planning and post hurricane cleanup. "Saba has already cleaned up and has its act together. Saba has done amazingly well."