PHILIPSBURG – Early in the morning on Friday, over fifty animal-loving volunteers gathered to finalize 'SXM Animal Evac', a project that aimed to evacuate homeless animals from Sint Maarten and surrounding islands.
Corinne Mackie, founder of SXM Paws led the fundraising and put everything in place to make sure that the animals would arrive at their destinations in Miami and Tennessee. Avid volunteer Alexandria Shaner took the lead on the operation on Sint Maarten.

By Laura Bijnsdorp
Together with the help of Safe Cargo, Amerijet, veterinary clinics, animal organizations island-wide and a whole lot of volunteers they succeeded in evacuating 167 homeless animals on Friday, October 6, 2017, exactly one full moon after the Caribbean was devastated by hurricane Irma.
Homeless after Irma
The 167 evacuated animals are from Sint Maarten, Saint Martin, St. Eustatius and Anguilla.
"During the hurricane veterinary clinics, shelters and homes fostering animals were damaged. My clinic was also looted of its equipment and medicine." – says Dr. Ruth Wright.
"There are quite a few abandoned dogs that we found after Irma. At times families evacuated and left their animals behind, sometimes in the care of someone, sometimes unfortunately not." – volunteer Sunitha Kamal
"Sint Maarten already had many homeless dogs and cats before the storm, now it has likely doubled", according to volunteer Riselle Celestina
No choice
Besides the many volunteers at the cargo-hold on the day of the evacuations, you could also see a number of families saying tearful goodbye to their pets.
"My neighbor had to evacuate due to health reasons, and unfortunately she can't come back. They are sweethearts, but I can't really can't keep them", says resident Tamara Rodriguez
"Our property was badly damaged and it has been impossible to find another home, especially one that allows pets. We would love to keep our cats, but this is the best alternative", says resident Ian Lucas.
"Everything I have is gone. It breaks my heart to say goodbye, but at least this way my dogs will have good home", tells resident Harvey Abbot.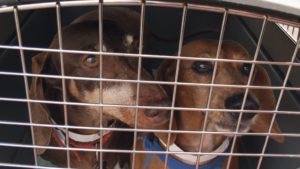 A better home
"Once in Miami, a number of animals will be reunited with their owners who had to evacuate, or handed to new owners with a loving home. The rest of the animals will be loaded into a truck and head out to Tennessee for a fresh start at life", organizer Alexandria Shaner explains.
I am afraid this is only a small fraction of the homeless animal problem on Sint Maarten. I hope that we can do another project like this one soon again", says volunteer Riselle Celestina.
"People are struggling. It is very difficult to find a good home for these animals right now. To know that these animals will be well-cared for elsewhere is wonderful!" says volunteer Jeffrey Sochrin.