KRALENDIJK – Children's ombudswoman Margrite Kalverboer thinks she can do a lot for children on Bonaire, even though her office is not located on the island. A previously proposed information center on Bonaire likely will be differently shaped. That is a conclusion that Kalverboer draws after a visit last week.
"Children on Bonaire have no problem, even think it is an advantage that we are not here in society, so that information does not end up with people they know," says Kalverboer. They are OK with contact through WhatsApp, Facebook or the mail, as long as they receive a personal answer.
Kalverboer, who has been in office since 2016 and does not have a separate budget for the Caribbean Netherlands, wants to come to the islands twice a year for consulting contacts and conversations with children and institutions. Because being on the islands personally also gives a different view of the islands: "from the European Netherlands much emphasis is placed on 'the big story'", says Kalverboer, "where issues such as poverty and domestic violence are highlighted. If you are talking to people you will hear the nuance. "
Juvenile law
One of the issues raised by the Children's Ombudsman is the lack of juvenile justice in the Caribbean Netherlands: "We talked about that when we were at the prison. Juvenile law is needed, but if you do not have it, you have to look for alternatives."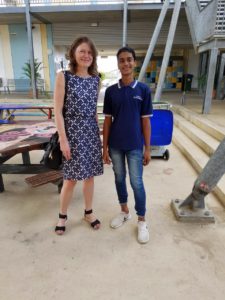 Poverty is also an important issue, even though the Children's Ombudsman does not interfere directly with politics. "We have the Convention on the Rights of the Child and children have the right to an adequate standard of living. It is very complex, you can not solve that from the Netherlands alone. The benefits must be increased, but they are again linked to wages and that is between employers and employees here. The parties will have to solve this together. But I will indicate that the standard of living needs to be raised here and that many problems of children here are related to, for example, too little food and that parents sometimes become tired of upbringing after work and that children have to cope for themselves. "
Publicity
The defender of children's rights must be better known: "We are only just starting here. At the beginning of the week we thought: we must be close and have a forward post, be physically present. That is not what we hear from children and professionals. We had folders, but we do not have to, because they read very little here." What works is visual presentations, such as videos and a good website in several languages.
Kalverboer thinks she is in a good position to exert influence. Sometimes this happens in individual cases, but also, for example, for childcare or transport. "They may not know us here yet, but in the European Netherlands it is picked up when we say something. So tell us what's going on, the better we are informed the more influence we can exert."