PHILIPBURG – Six months after hurricane Irma devastated Sint Maarten, the annual Kingdom-wide event 'DOET' took place for the 4th time on Sint Maarten. This year the event experienced a 46 percent increase in registered projects.
Article continues after the video
By Laura Bijnsdorp
As expected, a large number of projects this year focused on renovations, repairs, and beautification.
Much needed repairs
"Our church was destroyed during the hurricane, SXM DOET gave us the start we needed to repair part of it", says Rosa Richardson, a member of the Methodist Church.
"When we arrived to assess the basketball court, a group of young men excitedly approached us and asked if we were going to fix the court which was destroyed during the storm", explains Sharalee Lint, who initiated a project to fix up a basketball court during SXM DOET.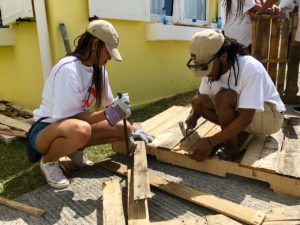 This year, Oranje Fonds allowed organizations to request $1000 per project, per location. Usually, this is $650. Although the funding was much appreciated by organizations – it was also clear that certain reconstruction projects needed more funding. $1000 for a new roof is often not enough.
At one location, a dozen volunteers were beautifying the school-grounds with plants and paint during SXM DOET. One of the volunteers commented: "It is great to be part of the rebuilding process, but it is also sad to see that many of the school's buildings are without a roof. Who is going to take care of that?"
Increase of projects
A total number of 108 projects were organized respectively by 70 locally represented organizations on Friday, March 9th and Saturday, March 10th. Last year 74 projects were executed.
Over 2000 estimated volunteers rolled up their sleeves to make the projects a reality, a 54 percent increase of participating volunteers last year (1300 volunteers, in 2017).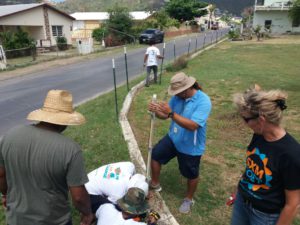 Hurricane season
"We pulled out a lot of zinc today during out cleanup. This needs to be done before the hurricane season starts", explains Sharon Freiburg.
Another volunteer shared the same sentiments: "It worries me that there are still so many broken buildings, stray debris, and other items strewn around the island. These things can cause major damage, even if it's a category 1 or 2 hurricane."
'It worries me that there are still so many broken buildings' – volunteer SXM DOET
More initiatives needed
"We need DOET-like initiatives. Why doesn't it happen more often?" a number of volunteers commented.
"Find us another donor who can supply a generous budget for something like DOET and we would gladly execute similar events more often in the year." Melanie Choisy, president of the Be The Change Foundation, executor of SXM DOET, said.
The Oranje Fonds funded a total of $89.000 divided amongst registered projects for SXM DOET this year.
"I'd like to see our local government take the initiative to fund and support events like this", commented a volunteer who helped fix-up a community playground.
DOET initiative
SXM DOET is part of a Kingdom-wide initiative, whereby, this year, a total of over 10.000 projects were hosted with over 400.000 volunteers all giving back to their communities for just two days. The King and Queen join in, as well as Princess Beatrix, whom all physically contribute at a project every single year.