Jenny Steel (37), well known radio personality in St. Maarten, had just finished studying journalism at The Nottingham Trent University in the UK, when she got caught in coronavirus lock down and travel restrictions. As so many Sint Maarteners she could not get back to her home island. She was happy to be on one of the first flights that were allowed in again after not being able to travel for almost four months. She describes her experience of what is to be considered 'the new normal'.  
PHILIPSBURG – Just landed in Sint Maarten. It took a while and an effort, but finally, I'm back home! Remember when we were told the shut-down would just be a few weeks? Governments around the world issued short term plans and promises and we begrudgingly accepted the disruption this pandemic brought.
At this time, I was studying in the UK and due to return to Sint Maarten on March 27th. Ten days after international borders to Sint Maarten closed. I waited. Week one to three; eagerly… weeks three to six; agitatedly and by week six I was waiting mournfully yet remained hopeful!
June 19th Announcement made that Sint Maarten would be open to travelers from Europe and North America from July 1st.
June 20th Purple Infographic released on Sint Maarten Government Facebook page recommending visitors and returning residents are tested 72 hours prior to travel. Many people responded online requesting clarification on whether or not recommended means we should be tested, and complaining the requirements were vague. Others also voiced concerns that 72 hours is unreasonable as test results can take up to five days and for many, the journey to the island could take three days.
June 23rd Purple infographic updated to say that COVID-19 RC-PCR test is now required with proof of negative result prior to 72 hours before travel and "passengers with symptoms will undergo rapid/PC/TR test at cost to traveller." There was no indication of cost.
June 30th 12 pm Purple infographic updated; travelers required to buy travel insurance.
July 1st Airport workers strike; Flights cancelled. Air France diverted to Guadeloupe. Passengers left stranded. Panic sets in!
July 2nd Researching travel insurance, I discovered that if the British Foreign and Commonwealth Office advises against travel regular insurance is not covered. Many insurers are no longer offering travel cover, and those who do, have a Coronavirus Clause which means they will not cover any COVID-19/ SARS related illness. By the afternoon the Purple Infographic was updated with no mention of health insurance.
Travel entry requirements updated on Sint Maarten Government official webpage says test must be 72 hours prior to day of travel, whereas the travel advice on the same webpage says 72 hours prior to arrival. My day of travel is two days before my day of arrival.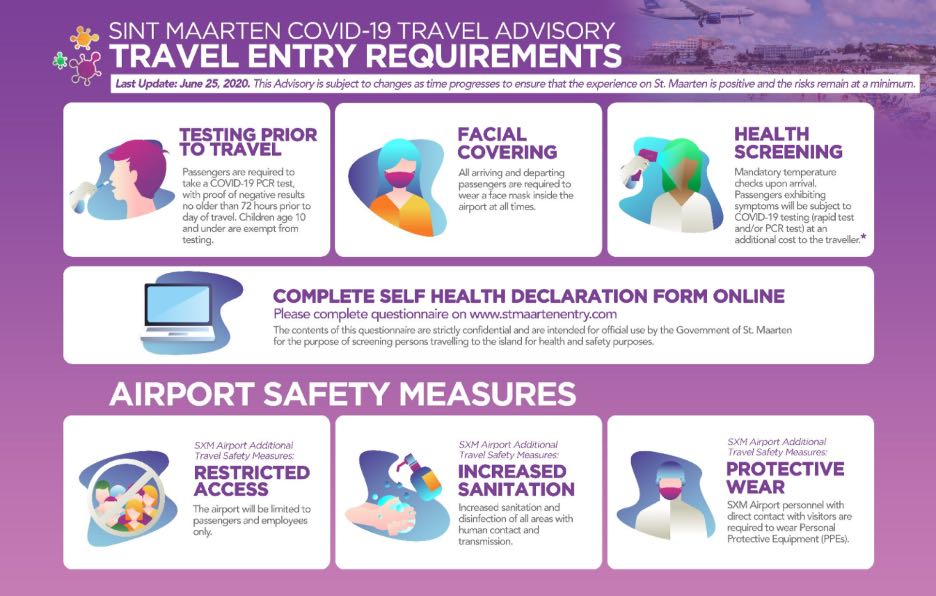 July 3rd Received an email from Air France stating surgical mask must be worn throughout the flight. Threw my collection of comfortable and fashionable masks to the bottom of my suitcase.
July 4th Day of flight to Paris – Heathrow Terminal Two was eerily quiet. Only travelers were allowed inside the terminal. Only one departure screen showed flights, the other two were blank. Dystopian automated announcements reminded people to maintain social distance.  There appeared to be more staff than passengers at check and security. From bag drop to my gate took twenty minutes, I wasn't asked to take off my mask at any point during security.  The majority of shops were closed, those that were open had security on the door directing people and enforcing social distance. There was a temperature check on boarding the plane, the checker said he normally works security. He was wearing full PPE.
The flight was uneventful, although my seat was on a full row I moved to one of 3 completely empty rows. I noticed most travelers had free seats around them. Despite requests to deplane row by row everyone still rushed to grab bags and stand in the aisle to get off the plane; social distancing did not happen.
July 5th CDG was busy, with lines of people queueing and not social distancing. It was quite a difference to the UK and seemed to me that the reduction of the 2-meter rule to 1 meter had made people quite complacent. Fully masked, I passed through security again.
The flight appeared to be close to full, and I noticed the business class passengers had comfy seats but no spaces between them. In economy, I was lucky enough to have a row to myself. I did speak to other passengers who felt uncomfortable that they did not have free seats next to them. Overall, the flight was fine, with the captain reassuring us air onboard is filtered every three minutes.
When we finally reached SXM an announcement was made on behalf of the Sint Maarten Travel and Tourism Board stating that passengers should conduct 7-day self-imposed quarantine. As far as I saw, there were no temperature checks on arrival and the immigration line was long with minimal social distancing.
The immigration agents were thorough and professional, they looked through my paperwork and consulted with other members of the team. How they are able to verify documents from COVID testing centres all over Europe I don't know, but they seemed satisfied with my papers and I didn't see anyone turned away.
I was thrilled both my suitcases arrived and a handsome man was waiting to pick me up outside Princess Juliana International Airport.