At the beginning of September the census Senso started on Curaçao. The intention is for everyone to participate, but many European Dutch are keeping their doors closed, the Central Bureau for Statistics (CBS) is noticing. "Often the result of ignorance."
The CBS on Curaçao holds an extensive census every ten years, to get a detailed map of the population. "This way we get a good idea and we can make better policy. We all profit from that", says CBS director Sean de Boer.
Fines of 5000 florins
Ten days after the door-to-door visits there are problems with, amongst other things, European Dutch who don't want to share their personal information. De Boer then notified that a deliberate refusal can lead to fines of up to 5000 florins. "We don't want to collect fines, that is not the path we want to go. But we do ask everybody to participate."
According to De Boer refusals are often the result of ignorance. "People read something on social media or they heard something from someone. But they do not know what the Senso is about and they don't know that we do not share data with Justice or the Tax authorities. Anonymity when participating is guaranteed."
People from Curaçao are also concerned
Not everyone seems convinced. The media are reporting that in residential areas like Jan Sofat and Brakkeput, doors remain closed. According to CBS that is in part because those are mostly holiday homes.
But still, the number of people refusing is higher than before. Under the people born in Curaçao, there are also many saying that they are 'done with' Senso. On social media, there are many discussions of people saying they heard or saw that their information was not treated confidentially."
'Leaked' documents appear on the internet trying to show that the Senso system is not airtight. De Boer denies these accusations. "Those leaked documents did not come from us at all. We process numbers, not private information", he says with a tired sigh.
The Second World War
He thinks it's a pity that so many untruths about Senso are going around. De Boer has heard that what is also playing a part, is that there were bad experiences in Holland with the census during the Second World War. Information was used by the Germans to find out where Jewish people lived.
De Boer finds the comparisons difficult to believe and asks everyone to please inform themselves well. "That is why the Senso information is in multiple languages on the CBS website and everyone can call or app us to get information. Also in Dutch." There is also a media campaign on the island.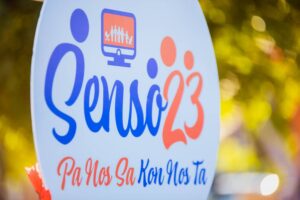 Second census for the country of Curaçao
In the context of Senso, there are about 700 pollsters walking the streets along the houses with an iPad between September 2nd and October 20th. For the first time, the data is no longer processed manually but goes straight into the cloud. According to De Boer this is more proof that sharing data is 'completely safe'.
The census of 2023 will be the second census that CBS organized for the autonomous country of Curaçao, the first was held in 2011. Before October 10th, 2010 (when the Dutch Antilles still existed) CBS also held 5 censuses (in the years 1960, 1971, 1981, 1992, and 2001) on all five islands at the same time.
Who will be counted in the census of 2023?
-Everyone who has lived in Curaçao for more than one year
-Those who stay permanently at a fixed abode
-Also undocumented persons
Who will not be counted?
-Tourists
-Those persons living in Curaçao for less than a year and who do not intend to stay for more than a year
-People from Curaçao living abroad
-Dutch military personnel staying on the island for less than a year. Royal Marine personnel staying for more than a year will be registered.
-Trainees remaining for less than a year
-Children born after the starting date of the 2023 census (march 9th at 12.00 o'clock)