For the first time, a demonstration was held in Curaçao against Israel's attack on the Palestinian territories. A group of about 50 people demonstrated on Wilhelminaplein on Wednesday evening. Saturday evening another demonstration was organized.
The group has "commemorated all the lives lost in Palestine." "Cruel and unnecessary," says Tony Espineira of the organization. During the demonstration on both Wednesday and Saturday, prayers are said for them in Arabic. There are several Palestinian flags and signs saying 'Free Palestine'.
"Stop the attacks!"
Curaçaoans from different backgrounds are present at the events. Christians, Jews, Muslims, and people who would not necessarily call themselves religious.
"Our wish is very simple," says Espineira. "We want a ceasefire; stop the attacks. We want a free Palestine, where everyone can live in peace with their neighbors. That they can enjoy all their rights, like us here in Curaçao."
 'Finally also a demonstration on Curaçao'
One of the demonstrators is Talitha Marsman, who has been back on the island since August. "There are several demonstrations in the Netherlands and now finally also in Curaçao."
"While I feel a bit sad about what is going on in Palestine, I also feel empowered by all these people who have come here. That they disapprove of what is going on there and that we should not remain silent about it."
Rhoda Barton is also present at the demonstration. Her partner is Lebanese, from Israel's neighboring country. "Here in Curaçao there are many people with a Lebanese background and there are also people with a Palestinian and Arab background."
"These people often prefer to remain in the background," is what strikes Barton. She believes it is her duty to support others. "It is difficult to see the situation there because in Curaçao we treat each other beautifully; with all the nationalities we have here."
Barton wants to send a signal against 'injustice'. "They are our brothers and sisters. Palestinians are people too. It is not a nice feeling that we can laugh here, while on the other side of the world, people are suffering so much."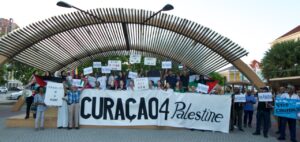 More demonstrations
Talitha Marsman hopes that the two demonstrations 'are a start'. "It makes me happy to see that our society, including the people I love, now realizes what is going on in Palestine. It's something that wasn't as visible through the media here. Now it does, thanks to social media", says Espineira'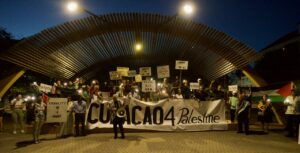 'Government in Curaçao must speak out'
The Kingdom of the Netherlands has only one Minister of Foreign Affairs, in The Hague, who speaks on behalf of the Netherlands and the six islands. According to several demonstrators, it is time for the government of Curaçao to make a statement.
"Our team is going to make a request to the government," says Espineira. "It would be nice if the government of Curaçao spoke out and said that we do not agree with what is going on. I want them to ask our sister islands and the Netherlands to stand up together and for us to say: stop this now."